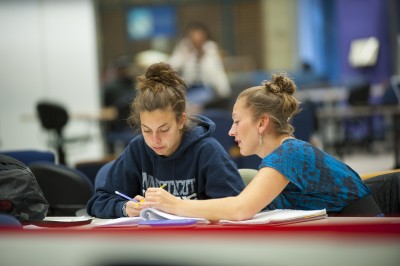 Course Placement
Major and Career Exploration
Tutoring
Academic Achievement Center (AAC)
One-on-one academic coaching and counseling on effective learning and study strategies, exam preparation, motivation, goal setting, and stress management.
Workshops and presentations on study strategies, time management and other topics
UConn Connects : Pairs each student with a faculty, staff or peer facilitator who will guide them through the semester. To sign up for UConn Connects, visit the AAC website.
Supplemental Instruction (SI):

Work in small, collaborative groups with your peers
Review lecture material, course reading, and assignments through exam reviews, practice quizzes, and discussions
Dean of Students (DoS)
If you have a question, a concern or a problem to solve, and you are not sure where to begin, the Dean of Students Office is a great place to start. Matters with which the Dean of Students office assists:
Exam rescheduling
Mediation for ongoing relationship problems with friends, roommates, coworker, faculty member, etc.
Sexual assault reporting and resources
Assist with ongoing academic issue like poor grades or interpersonal issue in the course
Voluntary Separation from the University
Short Term Emergency Loan Funds/ Veteran Loan Funds
Residency declaration for in-state tuition
Readmission to UConn
Extensions for incomplete courses
Student Support Services (SSS)
Increases access to the University of Connecticut for first-generation, low-income and/or underrepresented students.
Services include: tutoring, counseling and advising, peer advising
Center for Students with Disabilities (CSD)
Accommodations and services available to students with a documented disability. Apply for services on the CSD website.
Beyond Access (open to all students by application; fee for service program)

Helps students work on time management and organization, study skills, stress management, self-advocacy, memory and concentration, social skills, career preparation, health and wellness, and reading and writing strategies
Academic Adjustments for Q or Second Language
Academic adjustments are provided in limited cases involving a significant disability, where the graduation expectations for the quantitative skills and/or second language proficiency are a barrier to the completion of a degree.
Student-Athlete Success Program (SASP)
Advising and guidance for student-athletes
I-Center
Information Center located in Wilbur Cross
Advice about navigating UConn as well as using the Student Administration system