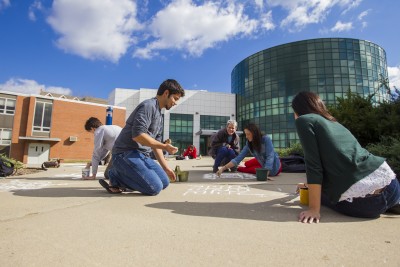 One University: Many Schools and Colleges
Undergraduate students at the University of Connecticut are enrolled in one of nine schools and colleges, the Academic Center for Exploratory Students (ACES), the Bachelor of General Studies Program or as non-degree students (links below).
Responsibilities for advising students are shared by faculty and professional staff, with each school or college defining specifically how those responsibilities are shared.
Each school or college as well as each regional campus has an office or center with oversight over advising. These centers/offices serve as a resource to students, faculty and staff on a wide range of advising matters, including:
Permission to register for excess credit or add or drop a course
Requesting a late withdrawal from a course
Academic probation, dismissal and appeals of academic dismissal
Requesting a general education substitution
University Requirements — School/College Requirements
All the schools and colleges share some of the same requirements and regulations. These are referenced in the catalog in the section on Academic Regulations.
Additional graduation requirements specific to a school or college are in the catalog under that school or college heading. See the School/College links below.
The Schools of Business, Education, Engineering, Fine Arts, Nursing and Pharmacy require an application. Students declaring majors in CLAS or CAHNR typically do not need to apply, although there are some exceptions. The School/College links below provide further details.