The goal of these awards is to recognize the extraordinary contributions of undergraduate academic advisors in supporting academic success and student development at the University of Connecticut.
For 2022, the awards include:
Outstanding Faculty Advisor
Outstanding New Professional Staff Advisor (new in 2022)
Outstanding Professional Staff Advisor (2 awards)
Nominees have been evaluated on the basis of qualities and practices that distinguish them as an outstanding academic advisor. Award winners will have demonstrated sustained excellence in undergraduate advising and will have made a significant impact on their undergraduate advisees' intellectual development through sustained academic advising relationships.
Recipients of the awards will receive professional development funding and a commemorative plaque.
2022 Outstanding Undergraduate Awards Committee:
Erin Ciarimboli, Director, University Advising and Pre-Professional Programs
Cheryl Eckert, Lecturer & Academic Advisor, Honors Core Advisor, Department of Allied Health Sciences
Kelly Gilbert, Coordinator, Advising Learning and Development, Office of University Advising
Lauren McGriff, Student, School of Business
Noemi Maldonado-Picardi, Director, Office of Student Service, Avery Point Campus
Jennifer Testin, Assistant Director for Academic Advising, Stamford Campus
Summer Spaderna, Student Support Services Counselor, Center for Academic Programs
Daniela Weiser, Associate Department Head for Courses & Curriculum, Assistant Professor in Residence, Connecticut Repertory Theatre Scenic Charge Artist, Department of Dramatic Arts
Outstanding Undergraduate Advisor Award Recipients:
Outstanding Undergraduate Faculty Advisor Award
Fei Wang
M.Sc., Pharm.D., BCPS, FASHP, TTS
Associate Clinical Professor of Pharmacy Practice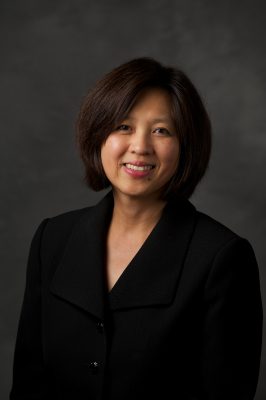 Fei Wang is an Associate Clinical Professor of Pharmacy Practice with more than 20 years of experience teaching, precepting, and working with undergraduate and graduate students. She completed her Bachelor of Science, Master of Science, and Doctor of Pharmacy degrees at St. John's University in New York and a PGY-2 Residency in Adult Internal Medicine at the Medical University of South Carolina in Charleston, South Carolina. She is a board-certified pharmacotherapy specialist, a fellow of the American Society of Health System Pharmacists, and a certified tobacco treatment specialist holding a Certificate in Tobacco Treatment Practice accredited through the National Association for Addiction Professionals. Her practice, teaching, and scholarly interests focus on improving gaps of care in the underserved, low-income, and minority populations of Hartford and in promoting integration of pharmacists into innovative healthcare delivery models. Her practice site in primary care is located at Hartford Hospital Community Health.
Fei Wang's favorite part of the job by far is working in her advising capacity as a member of the advising team in the professional pharmacy program. She regards this as a shared responsibility and welcomes the opportunity to provide guidance, support, and encouragement to students in an inclusive and welcoming space as they navigate through their four-year professional program. She is committed to building a strong advisory relationship that encourages openness and mutual respect where a student feels comfortable discussing challenges or successes to someone who is an advocate for them and has their best interests at heart. Her commitment to students includes three focused areas: 1) knowing her advisees as individuals and for them to know that their success is important to her; 2) encouraging and facilitating her advisees to be engaged and involved in their school community outside of the classroom, and 3) to guide students through the academic program and explore career options early on in the professional program.
For the advisee class of 2023, almost eighty percent of her students implemented co-curricular tracks and/or extracurricular opportunities to support their candidacy in competitive postgraduate programs and two additional students were accepted into the dual degree Pharm.D./MPH program. Fei Wang has a consistent record of service to the school and university's educational mission that includes formal and informal mentoring of undergraduate and postgraduate pharmacy students. She is grateful to have an opportunity to have made an impact in the professional and personal career goals of the next generation of new practitioners.
Outside of work, she loves spending time with her family and friends, traveling for club lacrosse, exploring new places to eat, listening to a great audiobook or uplifting music, and keeping fit.
Outstanding Undergraduate New Professional Staff Advisor Award (new in 2022)
Megan Lucia
CLAS Staff Advisor, Stamford Campus
Megan Lucia is the CLAS Academic Advisor for UCONN Stamford. She started this new role during July 2020 in the midst of working from home. It has been a whirlwind two years of learning all things CLAS and about the Stamford campus. The Stamford community was a very welcoming place during such an odd transition, with many supportive colleagues and ambitious students- every day brings new challenges and opportunities. When not helping students navigate the college environment, Megan enjoys spending time at home in Middlebury CT with her family, exploring New England and finding fun things to do with her two daughters.
Outstanding Undergraduate Professional Staff Advisor Award (2 recipients)
Megan Delaney
Academic Advisor, Pre-Professional Program
Office of Admissions and Student Affairs, School of Pharmacy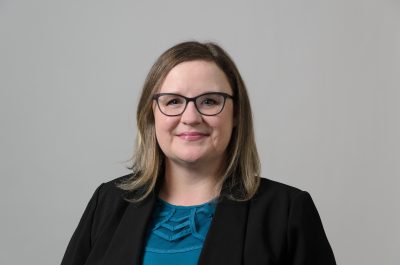 Megan Delaney (she/her/hers) serves as the pre-professional academic advisor for UConn's School of Pharmacy. She works with first- and second-year students from orientation through application and admission to the professional pharmacy program. In addition, Megan serves as Assistant Director to the School's Pharmacy House Living Learning Community. Prior to joining the School of Pharmacy in 2020, Megan worked in the College of Liberal Arts and Sciences supporting academically at-risk students in the Academic Services Center and students in the WGSS and Pre-Journalism majors.
Megan is currently a third-year Ed.D. student in the Neag School of Education working on her capstone project, which is focused on the beliefs and values white women academic advisors have about BIPOC students in STEM. She hopes that by thinking about how whiteness shows up in academic advising at Predominantly White Institutions (PWIs) such as UConn that advisors can increase their racial consciousness to better support and retain BIPOC students.
Outstanding Undergraduate Professional Staff Advisor Award (2 recipients)
Lauren Munyard
Academic Advisor, Department of Economics, CLAS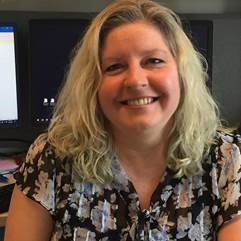 Lauren has been an advisor for 18 years, including at Boston University's College of Communication and at UConn for 15 years as an advisor at the School of Business, Departments of Communication, Sociology, and Economics and at the CLAS Academic Services Center which serves as CLAS' central advising office. She specializes in working with a large population of students, using techniques and tools she has learned through advising in different areas along with innovation to best serve the needs of many students while making them feel like an individual.  Currently she advises in Economics, one of the largest majors in CLAS. She started the Uconnomist undergraduate e-newsletter, has been working on developing a peer advising system in her department and has helped to create and put into place many new systems and processes to help make a large advising office run. In her past, Lauren developed an advising center from the ground up and hired and led its student workers, graduate assistants and advisors as the department doubled in size in majors. She has supervised many graduate assistants who were learning the advising profession. She has also worked with majors at the Regional campuses and works extensively with many international students who have unique needs given the pandemic and travel restrictions. She supervises student workers and manages the free tutoring program, manages the enrollment and permission number process, and is on the Undergraduate Programs Committee and the committee for the Economics Department Undergraduate Awards.
She also manages the Program Plan Change program for CLAS and processes major and advisor changes for the school, manages the ECE and non-degree courses for CLAS and their application to the students' degrees, serves as the university contact for final plans of study issues and workflow and is on the University's Nexus Steering Committee that works to help evolve the Nexus program to suit the needs of UConn academic advisors. Lauren has offered many workshops to the advising community, including instructional trainings on Student Admin, Nexus, Excel tips, and how to advise large majors and serves as an advisor resource for Nexus questions and troubleshooting.
Lauren studied Communication at Houghton College and Boston University as well as earned minors in Writing and Business.  Lauren attended the State University of New York at Oswego before transferring to Houghton College her sophomore year. As she understands the complexities transfer students face from changing colleges, she especially enjoys working with the transfer student population to help make their transition to their new school as seamless as possible. Throughout her advising career, she has been a student group advisor for multiple groups that do volunteer activities. Lauren's passion is for animals and she volunteers her time working with animal rescues.
Outstanding Staff and Faculty Advisor Awards
Who is Eligible?
Nominees must be involved in the direct delivery of advising services as part of their job responsibilities to UConn undergraduate students. Three awards will be granted in 2022:
Faculty Advisors:
The Outstanding Faculty Advisor Award recognizes an individual whose primary responsibility is as a teaching and/or research faculty member but who spends a portion of their time providing academic advising and mentoring to undergraduate students. Nominees must have five or more years of UConn undergraduate advising experience.
Professional Advisors: 
The Outstanding New Professional Staff Advisor Award (new in 2022), recognizes an individual, typically a staff member, who has primary responsibilities involve undergraduate academic advising. Nominees must have three or less years of UConn undergraduate advising experience.
The Outstanding Professional Staff Advisor Award recognizes an individual, typically a staff member, whose primary responsibilities involve undergraduate academic advising. Nominees must have five or more years of UConn undergraduate advising experience.
Nomination Process
Nominations will be sought from undergraduate students
Once nominations have been collected, nominees will be notified and asked to submit the following:

Nominee's philosophy on advising
Nominee's advising resume/vita or portfolio with materials that pertain directly to academic advising with clearly established timelines for award consideration
Testimonials which speak directly to the specific criteria outlined below. Testimonials should be limited to five and should be submitted in the form of a letter as part of the nomination submission or sent to advising@uconn.edu.

Testimonials can come from:

current or past undergraduate advisees, not including the nominating student
current University of Connecticut colleagues
past or present supervisors
Timeline
February 28
Call for student nominations opens

March 21

Nominations close

(deadline extended)

March 15
Nominees notified
April 4
Nominees' packets due
April 12
Committee meets to review nomination packets
April 14
Nominees notified of decisions
May 13
Winners and nominees announced at Celebrating Advising and 2022 Outstanding Advising Awards Virtual Ceremony
Award Criteria
Criteria
Advisors will have significantly enhanced advisees' educational experiences by being readily available to them, having knowledge of the University's policies and resources as they pertain to advising, and having demonstrated a genuine interest in and concern for their advisees' overall educational experience.
Accessibility: Advisors will have demonstrated a willingness to be available and accessible to advisees, allowing for frequent contact and being proactive in their engagement with advisees.
Knowledge: Advisors will have demonstrated a good understanding of and support for UConn's policies to support student success, appropriately referring their advisees to support services and other resources on campus, and effectively collaborating with University partners to support student success.
Support: Academic advisors will have demonstrated engagement in equitable and meaningful advising practices and relationships with students with diverse backgrounds, barriers and needs that support student success.