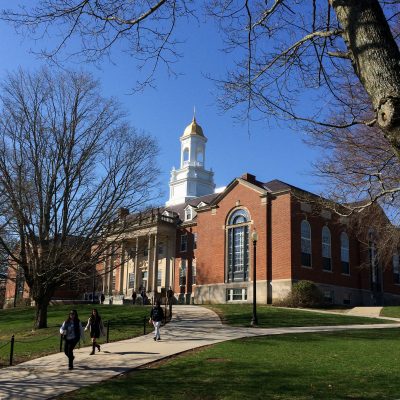 Fall 2017 deadline for submitting complete petitions  – Monday, September 25, 2017.
The University Senate enacted General Education requirements to ensure that all University of Connecticut undergraduate students become articulate and acquire intellectual breadth and versatility, critical judgment, moral sensitivity, awareness of their era and society, consciousness of the diversity of human culture and experience, and a working understanding of the processes by which they can continue to acquire and use knowledge. A critical element of General Education is demonstrated competency in five fundamental areas – computer technology, information literacy, quantitative skills, second language proficiency, and writing. The development of these competencies involves two thresholds: establishing entry-level expectations and meeting graduation expectations.
In limited cases involving a significant disability, the graduation expectations for the quantitative skills and/or second language competency has been a barrier to degree completion. The University has established a policy for considering academic adjustments to the University General Education and individual school/college requirements in an effort to respond to the extraordinary circumstances of students while maintaining academic integrity.
Academic adjustments are only considered after a student has demonstrated that he or she is unable to complete the competency at the University. In these cases, this situation will involve a student with a significant disability whose documentation and educational history provide compelling evidence that an academic adjustment is reasonable.
The University provides a range of academic support for all students and provides appropriate support and reasonable accommodations for students with documented disabilities as defined by state and federal statute.
Each academic adjustment will be based on the individual case and should not compromise the academic integrity of the requirements for a specific major or degree. Academic adjustments may include an exception to an academic rule, such as allowing a student to complete a required course(s) on a pass/fail basis or substituting an alternative course(s) for a required course.
The following rules will apply:
If quantitative or second language competency is deemed as an essential element of a program or course of study, then a substitution is not permitted. The question of "essential element" will be decided by the Dean of each school or college or head of program.
Academic adjustments will not reduce the number of courses/credits normally required to complete General Education requirements. Waivers of General Education requirements are never granted.
If the student changes his or her school or college of enrollment, academic adjustments will be reviewed by the appropriate Dean's Office in the new school or college of enrollment.
Academic adjustments will be subject to the 8-year rule.
All decisions involving academic adjustments will be determined by a University committee and submitted to the Vice Provost for Undergraduate Education and Instruction for final approval. The committee will include the following individuals:
Designee from the Vice Provost for Undergraduate Education and Instruction (Chair)
Designee from the Center for Students with Disabilities
Designee from the Department of Mathematics
Designee from the Department of Literature, Cultures and Languages Department
Designee from the General Education Oversight Committee
Designee from the Dean's Office of the petitioning student's school or college or Academic Center for Exploratory Students (ACES) as appropriate
It is in the best interest of the student to determine at the earliest possible time whether to apply for an academic adjustment. Failure to do so in a timely fashion may delay graduation.